APPOINTMENT SCHEDULER
All Information Is Confidential.
Free Natal Chart With Your 1st Psychic Reading Include Your Birthdate, BirthTime, City/State/Country Of Your Birth. Mini Interpretation Sent With Your Reading.
Optional You May Also send 3 Questions You Would Like Answered With Your Reading Order.
READING FEES
PSYCHIC READING
HALF HOUR $80.00
PSYCHIC READING
ONE HOUR $160.00
Readings Are Prepaid. Please Submit your order via PayPal below...You will receive a confirmation and the Date of your Reading in less than 24 hours, if no confirmation is received please e mail Joyce immediately:
Thank You!
For a complete explanation of all the Readings please view TYPES OF READINGS
All Readings are done by JOYCE LUCIANO, professional Psychic for over 45 years. This will be the Reading you won't forget!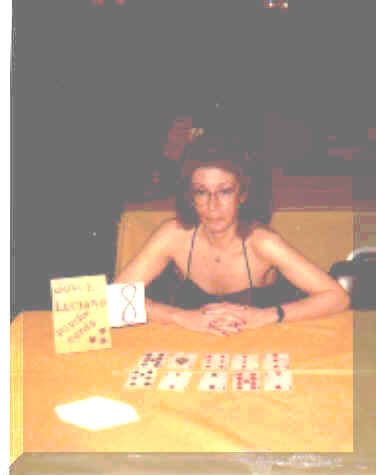 Joyce Luciano doing her layout for a Card Reading at one of her Psychic Fairs.
Copyright 1998, 1999, 2000, 2001,2002,2003,2004, 2005,2006,2007,2008,2009,2010,2011. All Material Contained, Joyce Luciano.
---
upload
authored..protected
joyce